Discussion Starter
·
#1
·
This is the ninth year I've posted this thread on the anniversary of the new purchase of my 2007 Ridgeline. I hope it helps new, current and potential owners of what the goods and not so goods have been based on my experiences.
For the sake of simply repeating things from past years, I suggest you do a username search and you can see the posts from each year I've owned my RL and the issues along the way as they tend to give a year to year update.
Just one oil change/tire rotation occurred in year nine ($59.94), this is probably the cheapest year for maintenance over the nine-year period. Miles-My ODO is at 83,255 as of today (9,250 miles/yr.), my annual averaged dropped 340 miles/year from year eight. My miles driven are pretty low by most RL owner standards, but having an extra car to drive for about three-months kept miles off the RL this past year. I continue to register around 15-16mpg in the city which hasn't changed over the course of ownership.
General appearance: Excellent, The RL still looks great (considering I drive from home garage to parking garage five days a week in Nebraska). Having the rear bumper cover replaced/repainted due to being rear ended in year 8 and also helped. The bed has its share of scrapes/scratches. I haul a couple loads of wood every year and misc stuff. It's a truck...
Interior, while a bit dirty due to lack of driver maintenance is still in excellent condition. All electronics work and the AC blows as cold as day 1. The rubber in the cup holders continues to deteriorate due to daily use but all the flaps are there. The glove box door rattles, but I haven't done much to remedy it as of yet. That's the only rattle I've heard over the years. Finally, while the engine compartment could use a good cleaning, there are no leaks.
Maintenance-I follow the MM for all routine maintenance. Total cost for maintenance over the last eight-years is $2616.64. Total maintenance costs almost doubled between years seven and eight due to tires and battery (or about $319.59/year over eight-years) Compare that to the seven-year mark of $189.63/year. Year nine brought the annual maintenance average down to $290.74/year. Maintenance/Repairs on my dime included:
-1 set of Sylvania standard headlight bulbs
-2 sets of Sylvania Silver Star headlight bulbs
-1 RR Tail light bulb
-1 center Tail light bulb
-1 Nail in the tire, repair
-16 Oil Changes (one free)
-3 Rear Diff. Changes
-2 Transmission fluid changes
-1 Brake fluid change
-2 Air/cabin filters at 30k/60k.
-5 tire rotations
-2 Door dings repaired
-Rear brake pads replaced
-New Tires (Michelin LTX/AT)
-2 Batteries (Current Optima Red Top)
-1 set Wiper Blades
-Rear bumper cover replaced
Upcoming Maintenance: Next Oil change I'll have the front brake pads/brake fluid replaced. I've been reading up on the radiator issue and have considered changing out the radiator, still on the fence on doing this. I'd like to know what the failure rate is. I'm trying to get a look at the status of my fitting but haven't found the right angle/position for getting my phone down there to take a good pic.
Warranty issues-Like everyone, I'm waiting on the airbag recall, but not real concerned about it. Otherwise during the early years of ownership, I had more than my share of warranty/recall issues however my local dealership (Honda of Lincoln) took care of everything with a smile. My warranty repairs included:
-Replacement of swing tailgate latch
-Replacement of Drivers side Headlight assembly due to condensation
-Replacement of Battery due to bad cell
-Replacement of missing bolt in center console causing console to
rock L/R
-Replacement of blower motor 2P connector (recall).
-Replacement of power steering rack that was caught within warranty, just not diagnosed but replaced under warranty.
Overall-I continue to be happy with this truck. It fits my needs. Everything still works, it drives like new but that's expected from a Honda I'm also pleasantly surprised with the resale value of this truck after nine-years as well. See you in 12-months.
Honda Ridgeline Day 1:
Honda Ridgeline Day 3287: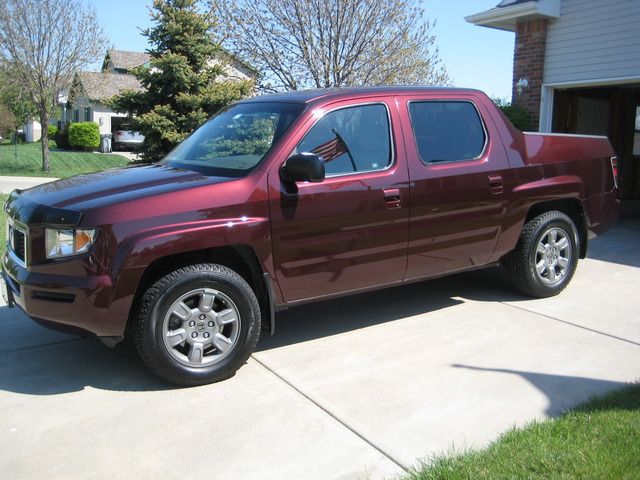 Damage after being rear ended by a Tundra, nice license plate imprint...