Discussion Starter
•
#1
•
This is the tenth year I've posted this thread on the anniversary of the purchase of my 2007 Ridgeline. I hope it helps new, current and potential owners of what the goods and not so goods have been.
For the sake of simply repeating things from past years, I suggest you do a username search and you can see the posts from each year I've owned my RL and the issues along the way.
Maintenance items and weather started creeping up this year however not expected. I had paintless hail damage repair this past year, a new after market head unit installed after the factory radio back lighting went out, front brake pads/brake fluid, airbag inflators replaced under recall, another set of air/cabin filters, replaced a tire under warranty (nail), two oil changes and a VTM4 fluid change.
Miles-My ODO is at 94304 as of today (9430 miles/yr.). My miles driven are pretty low by most RL owner standards, Not changed over the years: Mileage-I register around 15-16mpg in the city.
General appearance: Excellent to very good (it is 10-years old). The RL still looks great (considering I drive from garage to parking garage five days a week in Nebraska). I had paintless dent repair after a hail storm last summer ($2404 before my $250.00 deductible). The rear spoiler, that piece that houses the rear 3rd brake light and the rubber gutter strips were also replaced.
Interior, while a bit dirty due to lack of driver maintenance is still in excellent condition. The rubber in the cup holders continues to deteriorate due to daily use. No rattles (resolved glove box rattle) and fit/finish continue to be good. Solid door slams.
Mechanically: Everything works as new. I am watching the corrosion on the radiator fitting (see pic) that others have experienced. Just a plug for GiraffeCam wireless endoscope to get the pic.
Maintenance-I follow the MM for all routine maintenance/repairs. Total cost for maintenance/repairs over the last ten years is $3646.76. Front brake pads, insurance deductibles, VTM4, brake fluid changes this year brought my average for annual maintenance to $364.67 over the ten-year period. Maintenance/Repairs on my dime included:
-1 set of Sylvania standard headlight bulbs
-2 sets of Sylvania Silver Star headlight bulbs
-1 RR Tail light bulb
-1 center Tail light bulb
-1 Nail in the tire, repair
-18 Oil Changes (a few were free)
-3 Rear Diff. Changes
-2 Transmission fluid changes
-2 Brake fluid changes
-3 Air/cabin filters at 30k/60k/90k.
-7 tire rotations
-2 Door dings repaired
-Hail damage paintless repair
-Rear brake pads replaced
-Front brake pads replaced
-New Tires (Michelin LTX/AT)
-New Tire (Michelin LTX/AT)
-3 Batteries (Current Optima Red Top)
-1 set Wiper Blades
Upcoming Maintenance: I'm coming up on the 105K timing belt/water pump replacement in the next year. I'll most likely replace the OEM radiator with a Spectra, and spark plugs as well.
Warranty issues-I did get the airbag recall completed. Otherwise during the early years of ownership, I had more than my share of warranty/recall issues however my local dealership (Honda of Lincoln) took care of everything with a smile. My warranty repairs included:
-Airbag inflators replaced
-Replacement of swing tailgate latch
-Replacement of Drivers side Headlight assembly due to condensation
-Replacement of Battery due to bad cell
-Replacement of missing bolt in center console causing console to
rock L/R
-Replacement of blower motor 2P connector (recall).
-Replacement of power steering rack that was caught within warranty, just not diagnosed but replaced under warranty.
Overall after ten-years I continue to be happy with this truck. It fits my needs. Everything still works, it drives like (almost) new but that's expected from a Honda I'm also pleasantly surprised with the resale value of this truck.
Gen II buyers, best of luck. My advice; If you have not already purchased a Gen II, wait a year or two to let Honda get the bugs out.
Day one:
Ten years later: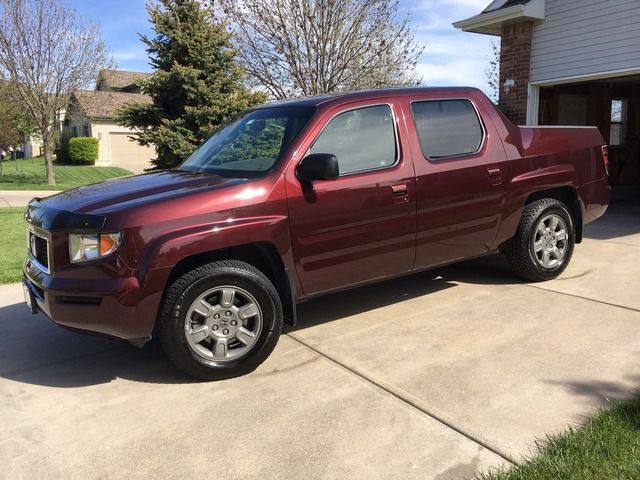 Radiator fitting: