After pricing electric tailgate locks, I decided to give the DIY lock a go. I did basically the same thing as ChrisM and Raplon.
I cut the T-Bracket a bit differently to avoid interference with the stock latch and I used a nylon washer between the two T-Brackets rather than a nut, but other than that mine is very much the same design.
I went all out and spared no expense making use of a hacksaw, a large vise, and a handheld grinder for the finishing touches.
The T-Bracket parts...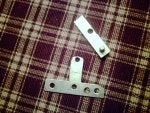 T-Brackets parts assembled...
Backside of the assembly...
With the linkage wire...
Bolted into the tailgate...
It seems to work well so far. I have to admit that I've had the tailgate disassembled quite a number of times in order to make "fine" adjustments. I'm getting pretty good at removing the cap and inner composite piece by now.
I did add the emergency release string, just in case.
Big thanks to ChrisM for his inspiration!!!