Discussion Starter
•
#1
•
Let me start by saying I am fairly new to owning a Ridgeline and this is my first try at a thread on this extremely helpful site...
I love the look of the Cubby Cover that 5S Dude makes for the Ridgeline. Awesome quality and customer service! So I did some measuring and found that the ProClip would obstruct the Cubby Cover from opening. I have the ProClip that sits below and to the right of the radio/pocket door. Great item too imho. Here is how I trimmed the ProClip to allow the Cubby Cover to clear the ProClip.
Here it is in all it's glory!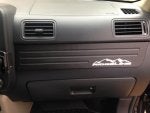 Here you can kind of see the area where the Cubby cover would strke the ProClip.
Here is a close up of the ProClip that I trimmed with a Bench Grinder to give me the clearance I needed to use both of the great items on my Ridgeline. I did remove the upper right screw from the ProClip and was going to move it but found that the other three screws hold it together just fine.
FYI: The ProClip allows the compartment door under the radio to open and close without hitting also.
Hope this helps anyone "on the fence" about which to choose, I say BOTH!
:act035: RidgeFox