Stopped by a buddies shop yesterday. He does vehicle wraps, not the advertising kind, but full vinyl wraps over paint. He had just finished an Audi A7 in mat black. The car looked fantastic, but aside from the exterior cosmetics, the B&O factory system audio system caught my eye. While the system employs standard dash mounted tweeters at the right and left corners of the windscreen, when the system is off, the lens retracts and the top of the lens completely covers the tweeter dome. I'd never seen this particular reflection solution from an OEM - but that just means I'm behind the times.
Leave it to B&O and Audi to develop and install motorized acoustic reflecting lens angled to the center of the vehicle. I'm thinking these might be a bit of a maintenance nightmare but still, a very cool idea. Hmmm. Suddenly, the synapse gears are in motion. Just what I needed, another idea for an already unfinished audio system.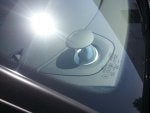 In the "exterior" folder on this forum, images of other wraps my pal has done have been posted In case anyone is interested, here's a few shots of the A7. A wrap is definitely in my RL's future!