I'm sticking with the stock Head Unit and have not been happy with the radio reception in the RL. In my first RL I added an external shark fin antenna that worked great for GPS with my Kenwood HU, but only slightly improved radio reception. I tried the stick on window antenna's, signal boosters etc with no real success.
Today I planned on adding a Metra 44-UA46 electronic roof mount antenna, similar to the Fuba type with which many have had success. Since I have a sunroof I needed to mount the new antenna behind my XM antenna on the back of the roof. I removed the 3rd brake light and the plastic panel that goes the full width of the roof searching for easy access to bolt on my new antenna.
After disconnecting the stock antenna when removing the rear plastic panel I turned on the radio and there was no difference in reception from my local stations.
This is a pic of the stock antenna on the underside of the plastic panel..
The white connector is the 3rd brake light and the brown is the stock antenna..
Close-up of the Antenna connector. It accepts a single male push on.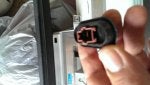 I opened the rear sliding window and tuned in a barely audible with lots of static radio station. Pushed in this new antenna and WOW perfect reception.
OK So that will not be my permanent new antenna
I tried the coat hanger for fun, (to which my neighbor was shaking his head), and it was a huge improvement.
The plan now is to find an antenna that has a simple push type connection and no built in amplifier. This will save removing all the interior pieces to run the wiring for the Metra.
Suggestions on replacement antenna welcome. I'm thinking of one from a different Honda model that would have the same color as my RL and could sit next to the XM antenna. Is there an adapter to go from the Motorolla antenna to this single push type on the RL?