With time being so limited lately, I was lucky to find an hour on Saturday for what should have been a rewarding project.
A few years back, this Fuba antenna was acquired for another vehicle project that was interrupted, so its been sitting in the box of tricks waiting.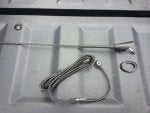 See the stud extending from the antenna base? And the corresponding cup/cable assembly? That stud is the first step in the mechanical interface between air and radio receiver - passed to the Motorola T/R connector thru RG59 cable. This antenna was still in its original packaging so I can only assume the obvious lack of a mechanism to isolate signal from ground was either a design oversight - or this particular example was mis-packaged. Luckily, I'm a fan of shopping at Earl's Industrial Liquidators and other places that specialize in odd ball items. So I dug around and found a 1/4" snap grommet perfect for the task. I took it a step farther and added both an O-Ring and CCF gaskets to improve water resistance.
Dropped the interior light/sunglass overhead thing and found an easily accessible area to drill.
Beveled the top of the hole to ease insertion of the isolating grommet and give the O-Ring a seat. Then added the first CCF gasket.
Dropped the passenger side sun shade hardware, pulled the chicken bar and A pillar cover for the RG-59 cable run down to the dash.