Update:
This antenna is a total failure. Since this involved DRILLING A FREAKING HOLE IN THE ROOF (!), what else could be done? I know, lets give a more current iteration of the Fuba a go. What could possibly go wrong with that?
Ordered one up from Antennax.com. $29.99/free shipping. The order was shipped quickly and arrived on time, as promised in follow up email. So far, so good. Anxious to open the package and access the mods needed to replace the Fubar Fuba, this happened: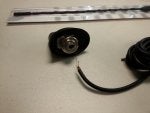 My first thought was... "Hey! That's just cold solder, I can fix that!" So lets take the gasket off the base, pull the screws out and check it out. This will only take a few minutes. Uhhhh...
Not only that, but the base of this thing now has a "key" making it anything but universal.
To Antennax.com credit, they fully refunded the purchase and allowed me to recycle this crap ASAP. They get a 5* in my book for that.
Still, I went ahead and looked inside. Obviously, Fuba (or brands masquerading as Fuba) are NOT ISO 9000 certified organizations! Absolute, 100% TOTAL GARBAGE.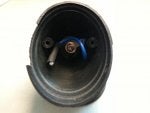 In the late 70's/early 80's I worked for a Robert Bosch distributor out of Costa Mesa. They were wholesale/retail distributors for Bosch, Hischmann, Blaupunkt, Becker and a bunch of other automotive brands. When it comes to antennas, German products were always pricey but always worth it. So, as much as I hate to pay retail, I started looking around. Turns out, Bosch and Hirschmann no longer have a presence in the U.S. market. Most likely because U.S. consumers are price conscience (or price sensitive) and unwilling to pay for quality. Ended up finding a Bosch GTI "Universal" antenna. It was a bit of an ordeal getting the order placed and fulfilled but "morganshop" over on ebay made everything right. I'll spare you the details but I was starting to think the patron saint of radiated signally did NOT want me to be listening to radio.
In a world of ho-hum low priced everyday junk, German quality literally screams at the junk it "competes" with.