Discussion Starter
•
#1
•
The GMC 260/230 series motorhome was introduced in 1973 with production ending in 1978 as a result of the oil embargo.
Designed from the ground up to be a motorhome - no other OEM – before or since – has produced a purpose built RV from scratch like GM did. Literally every other RV ever to hit the road began life as a truck, van or body-less rolling chassis adopted to become a motorhome.
Distinguishing design elements include:
- 455 (or 413) big block power
- Front wheel drive, derived from the 1966 Olds Toronado & Cadillac El Dorado of later years
- Fiberglass nose and end caps
- Aluminum roof and body skins
- All aluminum body skeleton
- Pioneering use of spray/expanding foam insulation
- 6 wheel, fully independent suspension with rear swing arms & custom Firestone air springs.
By some standards, these coaches are tiny. Offered in 23 and 26 foot lengths, the flat floor and very low-to-the-ground chassis makes entry and one step up proposition, which is very different from other RV's. Driver/passenger position is directly atop the drive train and front wheels. The huge windshields provide an unobstructed view of the road ahead. Passengers are often unnerved - at first - feeling a bit insecure until they acclimate to their surroundings. Depending on configuration, they can sleep up to 6, but are most comfortable for 2. When the oil embargo killed the worlds only purpose built motorhome, there were approximately 12K produced – about 8K still exist. The GMC registry shows there are owners all over the world. Apparently, they are popular in Europe because they can negotiate narrow road ways and are pretty unusual over there.
Until recently, the 40 year old GMC held the land speed record for a motorhome. A hot-rodded Fiat Doblo (a minivan conversion to an RV) beat her record. My coach (her name is TUG) is a 74, serial # 476. I've traced her history all the way back to her first purchase.
Much like the RL, there's a dedicated group of GMC owners. Several of the more enthusiastic fans have started a cottage industry designing and selling components, bringing drive line mechanicals closer to modern standards.
There are specialist businesses dedicated to the GMC around the country. Most of them are very well known in the GMC owner community. Among the more famous is the GMC CoOp in Orlando. Jim Bounds has a reputation for full blown restorations, hyper custom modifications and generally advancing the 70's era GMC into the current century. In the last year or so, he's delivered $400,000 "resto-mods" and $200,000 freeways fliers, fully updated to crate motor "EMP proof" military grade diesels coupled to original (vastly improved) TH 425 transmissions.
While on business travel in Sarasota last week, I had time to visit family in Orlando, and sneak a visit with Jim last Saturday. He's in the middle of expanding operations, moving a rather intimidating volume of gear 200 feet across a parking lot. After a quick call, he invited me over for a visit, literally waiting for me to get there – since Saturday isn't a normal business day in his world.
What a treat! He showed me all around his old and new shops, even pointing out that he's finally achieved a goal of installing a urinal in the "new" bathrooms in the new location. It's a Duessy too. No picture though cuz, uh… it's a pisser. What else does one need to know?
Here's a quick pictorial of what's happening at the GMC Co-Op (he's changed his domain name to "FirefightMarine" as his business grows into mobile fire suppression).
This is Jim behind the wheel of (one of) his coaches. This one is used for all kinds of things, including road trips - but she's pretty much a yard dog – a little rough around the edges. She's windowless, which - when you are accustomed to the bright interior of a window coach - is really odd. Definitely not to my liking…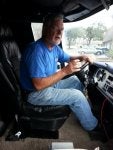 Stepping inside the new shop, there are quite a few 40 year old road queens…
This ones a 23 footer. These are like driving a big van. Only more fun when equipped with a galley, head, sleep spaces and various goodies.
Another 23 footer.
For a fan, this is like being in a dream factory. Wish my paint was 1/2 as nice as any of these.
Continued...