Discussion Starter
•
#1
•
Fellow RL lovers, looking for any advise you may have on the strangest tire wear I've ever witnessed. I'll spare you details of a used car buying nightmare for the moment but if you could take a look at the images below and suggest potential root cause, I'd be forever in your debt.
2007 Beetle. Less than 70K on the clock. Michelin MXV4 rubber. Maybe 20% remaining tread. No odd cupping or uneven wear evidence, just this weird patch of belt popping thru the passenger side front.
All 4 look pretty much the same. Relatively flat wear - except I notice the pass/frt is wearing a bit on the inside
This is the top of the tire seen above.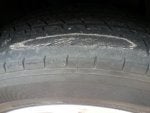 Thoughts please!