There's a few reasons for this initial test.
First is stepping further up the learning curve with REW software - which - in the longer term is part of acoustic experiments related to an ever growing mobile audio system.
Second is 06 is due for new shoes. IME: noticing ride and handling improvements after replacing tires is readily apparent, but road noise is another topic altogether. The psychology of "feel" in road behavior deeply affects the subjective human sense of sound.
I wanted to have something more than my brains influence over my ears to gauge the upcoming change.
Bridgestone "Duelers" as of this morning:
The measurement system consists of:
- REW software
- Behringer ECM 8000 measurement microphone
- Blue Icicle XLR to USB A/D
- Standard 25mm microphone shock mount
- Vintage Atlas mic stand
- 3" open cell foam pad insolating mic stand base from vehicle floor
- Series of bungee cords limiting mic stand shaft movement while maneuvering vehicle.
In addition to windows software and mic system, 2 additional devices were used during the drive as a confirmation/sanity check:
- Calibrated measurement mic and Android RTA application
- Galaxy handheld SPL
To the degree microphonic induction is minimized in this configuration, vehicle vibrations *should not* be present in the body of the A/D and measurement mic.
Sorry for the dust. This Alas stand sits in the home studio most of its life holding up a sweet 60's era Shure SM-55. It didn't occur to me it needed cleaning until the flash made it stand out like a Las Vegas casino sign. SHEESH!
In the driveway, windows up, engine off. Pure ambient spectrum and pressure as displayed by REW SW and Behringer Mic.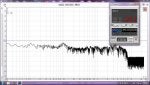 Android RTA and handheld SPL meter (C weighted) sitting in the driveway, windows up, engine idling.
Same conditions above as displayed by REW/Behringer mic.
Continued....