I wanted to add XM to my truck, and didn't want to fork over my hard-earned cash for the oem honda kit, so I ordered one of those I-pod adapter/terk Direct XM tuner deals online.
My second issue was that I did not want to mount the antenna anywhere visible on the truck, for a few reasons: a) I don't want it to scratch the paint b) satellite radios have been getting stolen around here, I don't need to advertise my thief-bait and c) they just look nasty on an otherwise clean truck.
Note: this should work for sirius as well.
This was my solution:
one thing before we start: you will see my antenna wire in steps 2 and 3. Please try to imagine that it is not there. I took the pictures 2 weeks after the install.
1) remove the two plastic covers from the third brake light.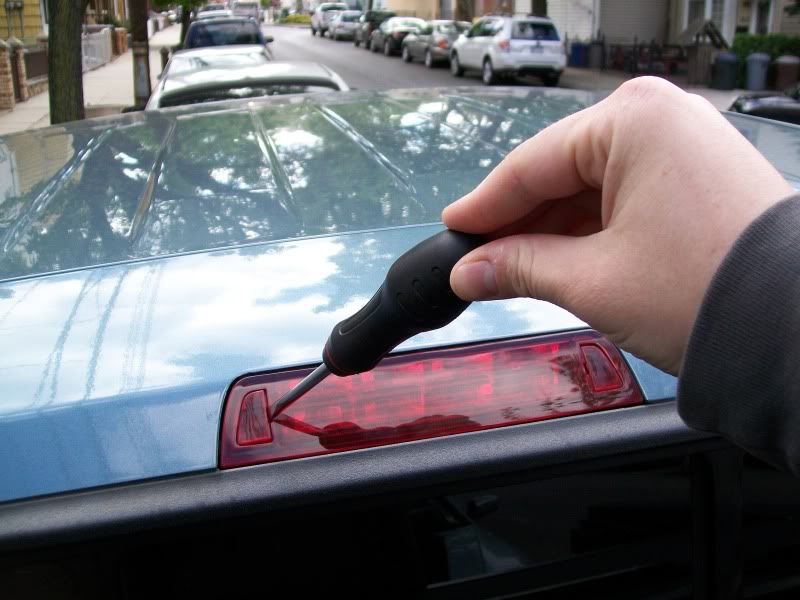 2) Remove the third brake light
3) follow the third brake light wiring to the grommet, pull out this grommet.
4) Open rear window, reach inside truck and pull headliner down slightly (it's held up by velcro from the factory)
5) place your left hand between the headliner and the roof of the truck. Use your right hand to feed the wire into the hole left by the grommet. Use left hand to catch the wire inside, and pull it trough.
6) There is just enough room to stick your antenna here.
7) push grommet back in, and re-assemble everything in the reverse order of which you took it apart.
8) step back and admire the fact that you, and only you know that there's an XM antenna in there.
So far, I've had no interference, no water leaks into the cab even in torrential rains, and my signal has not dropped out once (I did this about 2 weeks ago)