Discussion Starter
·
#1
·
OOB (out-of-box) experience is a standard practice in the world of production consumer electronics, it is used to measure first impressions of a new or first time purchaser of a product. I assume this is a quality assurance step performed by just about every manufacturer of any product destined for the hands of consumers. Realizing an automotive component isn't always unpackaged and assessed by the owner of the automobile it will be installed in, its reasonable to suspect radiator manufacturers are less concerned with first impressions of their product - because technicians are (mostly) the humans unboxing and installing replacement parts in vehicles. Clearly, OSC markets their products to "installers" as evidenced by their convincing videos.
After tearing down a Denso OEM radiator in this
thread
and reading the experience of others with Spectra and Toyo aftermarket radiators, I settled on the OSC mostly based on the video I was exposed to by a fellow forum member linked thru the Rock Auto parts web site. On that video, the presenter mentioned "braising in" trans heat exchanger ports. In my imagination and based on info available on the
OSC web page
, it appears braising refers to a hard mounted port assembly that virtually guarantees trans fluid and engine coolant cannot combine - because the ports themselves are braised onto the internal tank/exchanger assembly, thereby offering superior isolation to the OEM Denso design which only keeps fluid separated by a very short threaded interface known to fail, causing SMOD.
Anyhow, below are images and comments on the OSC radiator sourced from Rock Auto.
Arrived damage free. No outwardly visible signs of shipping damage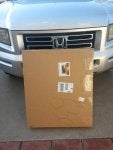 Go figure, huh?
As claimed in the OSC video, alignment marks were in place. I'm guessing the double nut design on the ports has to do with the braising design. It appears the larger back nut is responsible for maintaining mechanical attachment of the internal tank, the second smaller nut is for port attachment. If those assumptions are true, I like this design. FAR superior to the OEM Denso.
Unlike the claim in the video, the cooler frame/fins appear to be the same dimension. IMO, this is neither bad nor good, just not as was led to believe by the video.
Something is awry with the frame. There is a visible waviness. Not sure this straight edge makes is as clear as seeing it live.