A tear down of the OEM Denso & aftermarket Spectra radiators, New OSC included. Thanks to forum member Carsmak for the OEM and Spectra donations. The new OSC to be installed in the 06 in the near future. Out of box impressions of the OSC in this thread:
http://www.ridgelineownersclub.com/forums/showthread.php?t=122650
First tear down of the OEM Denso in this thread:
http://www.ridgelineownersclub.com/forums/showthread.php?p=1709089
By now, most everyone is aware of the dreaded SMOD. This comparison focuses on the trans fluid heat exchanger and observations of general construction of OEM vs. aftermarket.
The first stand out between OEM and aftermarket designs is the mechanical attachment of the heat exchanger to the lower tank.
The OEM design relies on the trans fluid ports serve two purposes. One is to isolate engine coolant from trans fluid. The other is to serve as clamping mechanism holding the exchanger to the tank. The "problem" with this design is when a port fails at one task, it fails at both allowing incompatible fluids to mix, causing potentially serious damage to the transmission.
The aftermarket appears to have solved that issue by separating tasks. The clamping of heat exchanger to tank is discrete from fluid passages. The clamping of port to heat exchanger is a male/female flare, similar to plumbing in home/industrial construction. For fluids to mix in this design, the failure mechanism would involve two points of failure, which statistically speaking is much less likely than the single point of failure in the OEM design. Score a point for the aftermarket (IMO). And this distinction is not trivial considering the gravity of SMOD catastrophes.
Comparing inner tank seals for the heat exchanger, the Spectra appears to be die cut where the Denso is an O-Ring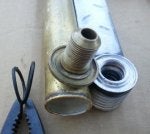 Heat exchangers:
Denso (left) is aluminum stacked plates, the Spectra (appears to be) brass concentric.
Comparison of core rows:
Although there are fewer rows in the Spectra, the tubes and ports on the braised plates are definitely larger. Micrometer wasn't available to measure:
On a side note: when the lower tank was removed from the Spectra, the interior was caked with this debris. WOH! Wasn't sure what to make of it. Spoke to Carsmak who explained whe the Spectra was removed from his RL, he performed a pressure test to ID the source of a leak. He used a garden hose as the fluid and pressure source, so it turns out this flaky debris is calcium resulting from evaporated city water. Let this be a lesson to anyone who's ever used tap water to top off their engine coolant. This crap gets into every nook and cranny of coolant passage ways. So Cal tap water is notorious. EEW.