Discussion Starter
•
#1
•
greeting everybody.
wanted to introduce myself, Most just call me Jb. I found out a couple of months ago that I was going to be a dad for the first time. yaa me, I have a company truck, and a motorcycle, and my wife has her car, so I really didn't need a vehicle, I sold my rather rare M3 last year cause I never drove it much, so it was just wasting away, I figured that was a shame for such an amazing car.
Now that I am going to be a poppa I have to have a vehicle again....just in case, I figured prolly best to get a 4 door truck. Well that really narrows it down, I wanted something comfortable, also figured a truck would be better for towing the bikes around, and just hauling in general for house crap. As I am having a baby, the budget would be tight, so cant get anything new, because dealerships have totally lost their freaking minds with the prices of new cars these days. MPG isn't that big of a deal cause I wont be driving it all that much, so at least a 6 cyl would work. I really despise fords and dodges so those are already eliminated. What else is out there?
Older jeeps? eh, frontier? not bad, but not a whole lot of leg room in the back cabin, but it is a nice looking truck, but a little pricey. tocoma? maybe, but dont care for the styling much, not all that comfy....jeez.
Enter the honda ridgeline, My friend had one years ago, his only complaint was the mpg, but otherwise he loved it. I like the way it looks, sure it doesn't have the numbers that most pickup trucks have, but it is way more comfortable, and tons of room in the back for family, and is really close to being in budget. And its actually way more truck than I need, plenty enough towing capacity for my bikes, and the funky awd seems to work really well. Been watching some offroading vids on youtube and was pleasantly surprised how capable it is.
So I am having a dealership deliver an 07 RTS off at my house on monday, picked it up for 12k, with 120k on it. Looks in great shape.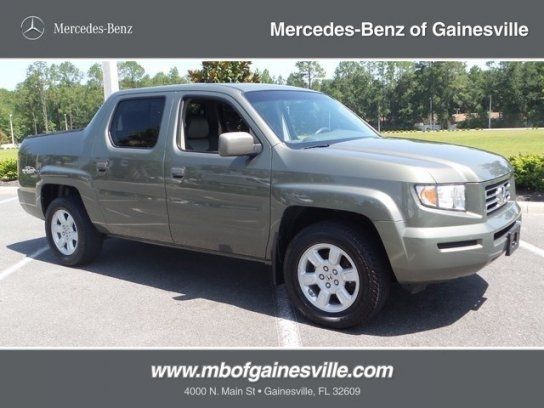 peace
Jb