After using a dual port USB cigarette lighter adaptor with a voltage gauge, I decided its a nice thing to have. But I don't like having a thing sticking out of the console face - plus phone & other USB 5V supply is now hard wired and totally hidden, so while another project was underway, it was time to install a panel mount gauge I purchased, tested an commented on here sometime last year.
As long as the dash/center console was out, might as well put a couple of low intensity lights in the "not an ashtray". No more fishing by feel in the dead of night for me!
The lights are "naked" - old school style - that were common to hobbyists before LED illumination became an industry.
So, starting with a pile of parts from the bag/box of tricks:
And wiring the back side like this:
Inside the pocket is nicely finished:
The back side of the console eventually looked like this: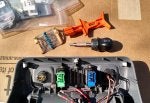 Wherever possible, altering factory harnesses is a no-no, so the final assembly is "plug and play". The gauge and lights getting there power from the unaltered connector that used to power the "not a cigarette lighter".
The camera really screws up red LED light - in full day light, the gauge is readable from the driver position: